What is all this ruckus with Tim Tebow?
You know when I hear about him - when he is supposedly dating a celebrity. Katy Perry? Kim Kardashian? Snooki?
Let's be honest - that boy's PR team can claim whattttteverrrrr they want to about him but you know he is a freak in the sheets and shaking his tail feather to every cleat chaser who comes into his locker room.
Come on.
He is a pro-athlete, young and did I mention a Pro-athlete?
However, seeing as today starts the weekend and everyone on Twitter is talking about the recent trade, I feel this card is incredibly timely. Don't you agree?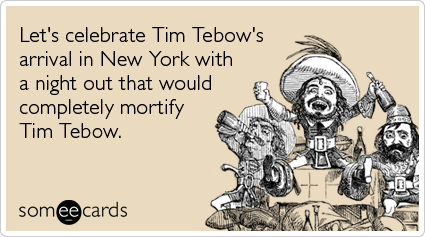 Here's to the weekend, Tebow-style!
Editor's note - I made it through to the next round in the Cleveland magazine #bloggerbracket contest - thank you for voting - Hop over
here to vote
for me and your other favorite bloggers.